Convert PDF To Word In 3 Clicks!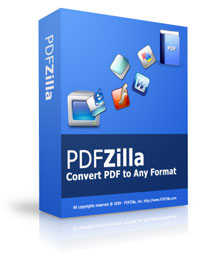 Powerful PDF To Word Converter - PDFZilla

Editable
- Edit Your PDF Documents In MS Word!

Easily
- Convert PDF To Word Document Just In
Only 3 Clicks
.

High Quality
- Convert PDF To Word with
ALL
text and Graphical Data.

Page Selection
- Convert Selected Pages of PDF File To Word document.

Over 20 Languages Supported
- Besides English, PDFZilla
Also
supports German, French, Spanish, Italian and all Unicode Language PDF Files.

Batch Mode
- Convert
1,000+
PDF Files in Bulk.
Convert PDF To Word Now!
PDFZilla Screenshot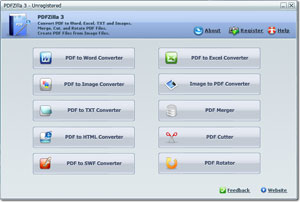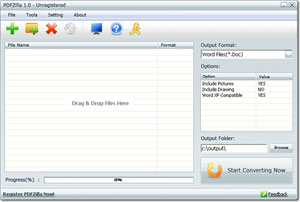 Learn How to Convert PDF to Word, Excel and Images etc.
Learn How to Convert JPG to PDF
Learn How to Merge PDF Files
Learn How to Cut PDF
Learn How to Rotate PDF

PDF Conversion Formats Supported
Output - PDF To:
MS Word(*.DOC), MS Excel(*.XLSX, *.XLS), Plain Text(*.txt), Rich Text(*.RTF), JPEG(*.JPG), GIF(*.GIF), PNG(*.PNG), TIFF(*.TIF), Bitmap(*.BMP), Flash(*.SWF), Webpage(*.HTML).














Create - Image To PDF:
JPEG(*.JPG), GIF(*.GIF), PNG(*.PNG), TIFF(*.TIF), Bitmap(*.BMP), Photoshop(*.PSD), Icon(*.ico), PPM(*.PPM), TGA(*.tga).










PDFZilla Key Features
Convert PDF to Word
Convert PDF to Word with all text and Graphical data.
Convert PDF to Excel
Convert PDF to MS Excel XLS / XLSX format so that you can edit and extract PDF forms.
Convert PDF to RTF
Convert PDF to Rich Text Files. You can edit all text and graphic by Windows Wordpad.
Convert PDF to TXT
Convert PDF to plain text files. You can edit text by Notepad.
Convert PDF to Images
Convert PDF to BMP, JPG, GIF or TIF files.
Convert PDF to HTML
Convert PDF to HTML files and automatically generate the Index file.
Convert PDF to SWF
Convert PDF to Shockwave Flash Animation files which can be published on websites.
Convert JPG to PDF
Create a PDF file from images like JPG/PNG/TIF/BMP/GIF etc.
Rotate, Merge and Cut PDF Files
You can rotate PDF files 90 & 180 degrees, or merge several PDF files into one, or delete and cut pdf pages.
Page Selection
Convert all the pages, or partial pages of a PDF file.
Easy to use software
Add a PDF File -> Select the Output File Format -> Click on Start Converting button, then just have a cup of coffee :)
PDFZilla: The Next Big Thing in PDF Converting
With endless PDF converters being advertised in the cyberspace today, users cannot seem to identify reliable software for their needs. Well, users always have high standards, given that PDF converting is a crucial task that demands security, convenience, and affordability. PDFZilla, the newest behemoth to conquer the marketplace, is here to cater to everyone's converting needs. Here are the defining features proving how this program is a monster to beat:
PDFZilla converts PDF to Word in a span of seconds!
Don't be fooled by its strength. Apart from its incredible reliability, PDFZilla also possesses speed. All you have to do is click thrice, and you are on your way to convert PDF to Word. The waiting period is also short, so your work would not be disrupted. Just grab a coffee and have a break while you wait.
PDFZilla ensures the integrity of all content!
Apart from speed, users look for integrity. They want to see the same content that the PDF file contained. However, this is not a promise that other converters fulfill. Some fail to convert to Word, while others lose important data in the process without the user knowing! PDFZilla understands this need, so it ensures that the converted file will exactly look like the previous one, only editable.
PDFZilla lets you edit PDF files on MS Word!
While most converters can convert to Word, not all of them can let users edit the content once transferred to the Word format. PDFZilla knows that this is the common purpose, so it lets you edit on MS Word, a universally preferred format when editing documents. Apart from this, it also allows users to rotate, merge, or cut PDF files in case these functions are necessary.
PDFZilla converts files in bulk!
People who convert from PDF to Word are usually those that conduct research, university projects, legal cases, and the like. The common denominator that is present in all of these people is that they do not have the luxury of time. To cater for this, PDFZilla devours all the files to be converted and return them into editable formats before you know it.
PDFZilla allows users to convert selected pages!
Sometimes, you only need a page or two to be converted because these are the only ones which are relevant to the work you will do. Imagine if you have to convert all 1,000 pages just to copy a paragraph on 1 page? Isn't that too much hassle to stomach? PDFZilla knows it is, so it offers page selection, a feature which allows you to pick the specific pages you want to be converted.
PDFZilla supports more than 20 languages!
An integral characteristic of good software is its user-friendliness. A manifestation of this trait is the numerous languages that the program supports. PDFZilla is available in numerous languages such as French, German, Italian, and Spanish.
There's no doubt about the strength, speed, and reliability of PDFZilla. It surely is an innovation that will wreak havoc in the world of PDF converting.
PDFZilla Awards
Other Products
Articles
PDFZilla Key Features
Useful PDF Tools